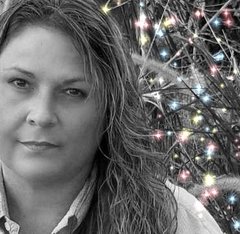 Hi, I'm Dawn Scannell and I live in sunny south Florida. I'm a glass bead maker, painter, wife and cat mom.

I began making artisan beads in 1994. My medium was polymer clay. Although I enjoyed it very much, after leaving my day job in 2003 to become a full time artist, I soon realized that I just couldn't make a living at it. It was then that I started falling in love with glass lampworked beads. I was very intrigued by the encased flower beads as they reminded me of a paperweight that belonged to my Grandmother. I used to gaze into it, wondering how they got the flowers in there.

I had saved just about every penny I had made on my clay beads and decided to take my second big leap of faith and invest it in lampworking equipment. I bought a torch, a kiln, an oxygen concentrator and a ton of glass. For months prior to my torch arriving, I researched all I could through books and on the Internet. My first day at the torch was July 27, 2004. I thought was would just sit down and whip out a few fabulous beads. Yeah, right! I couldn't make a round bead to save my soul. I thermal shocked a rod in the flame and it scared me so bad I shot backwards in my office chair like it was rocket propelled! After a 2 hour torch session I had about 5 crappy blobs of glass and nerves so frazzled, I don't think I slept at all that night. After about the third day I started to relax and things just started to click. As I'm writing this, I have been at the torch for 12 years now and I can't imagine ever doing anything else. I still get a rush every time I light the torch and I don't see that ever changing. I truly believe that I've found what I was meant to do. I look forward to each new day and the opportunity to learn something new.


Publications
The Flow Magazine
The Glass Bead Magazine
Glass Bead Evolution Online Magazine
Soda Lime Times Online Magazine
Beading Times Online Publication
Polymer Cafe Magazine
My Studio